This mod is based on the TP-Link Archer AX53 (AX3000 Gigabit WiFi 6), however it will be very similar if your have any other's manufacturer WiFi router. Idea is still the same!!! My router comes with unremovable 4 antennas. To open the router you need to undo two screws at the bottom and then the cover is clipped with some very strong plastic clips. The best idea to remove the cover is to use some guitar picks (mobile phone screen opening tools):
After opening the router I had no clue which antenna is which. But I know 2 of them are for 5GHz band and the other 2 are for 2.4GHz band.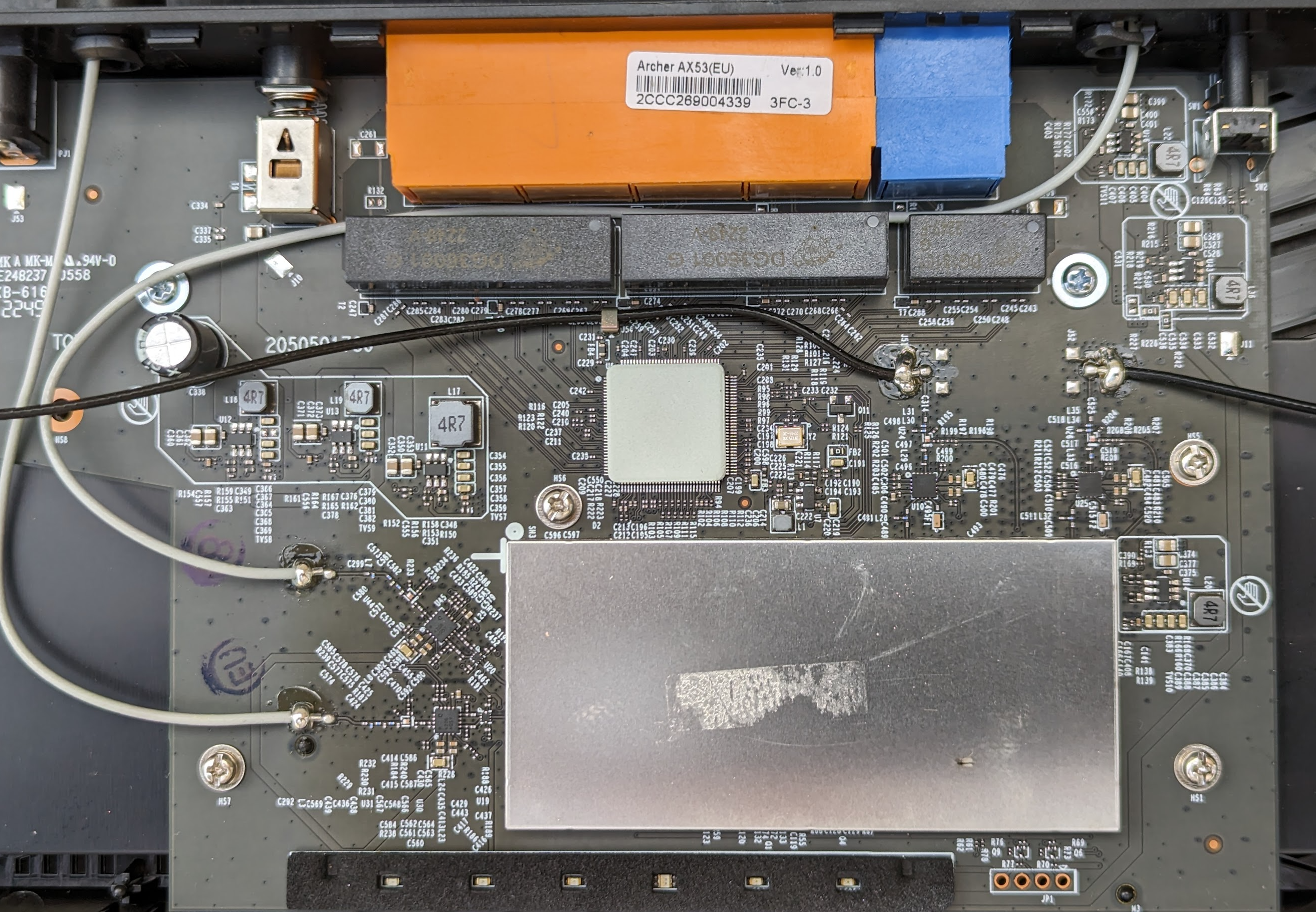 I decided to not to worry at that time and I removed all the cables – to do it you will need a relatively strong soldering iron – weak one won't be able to heat the shielding braid.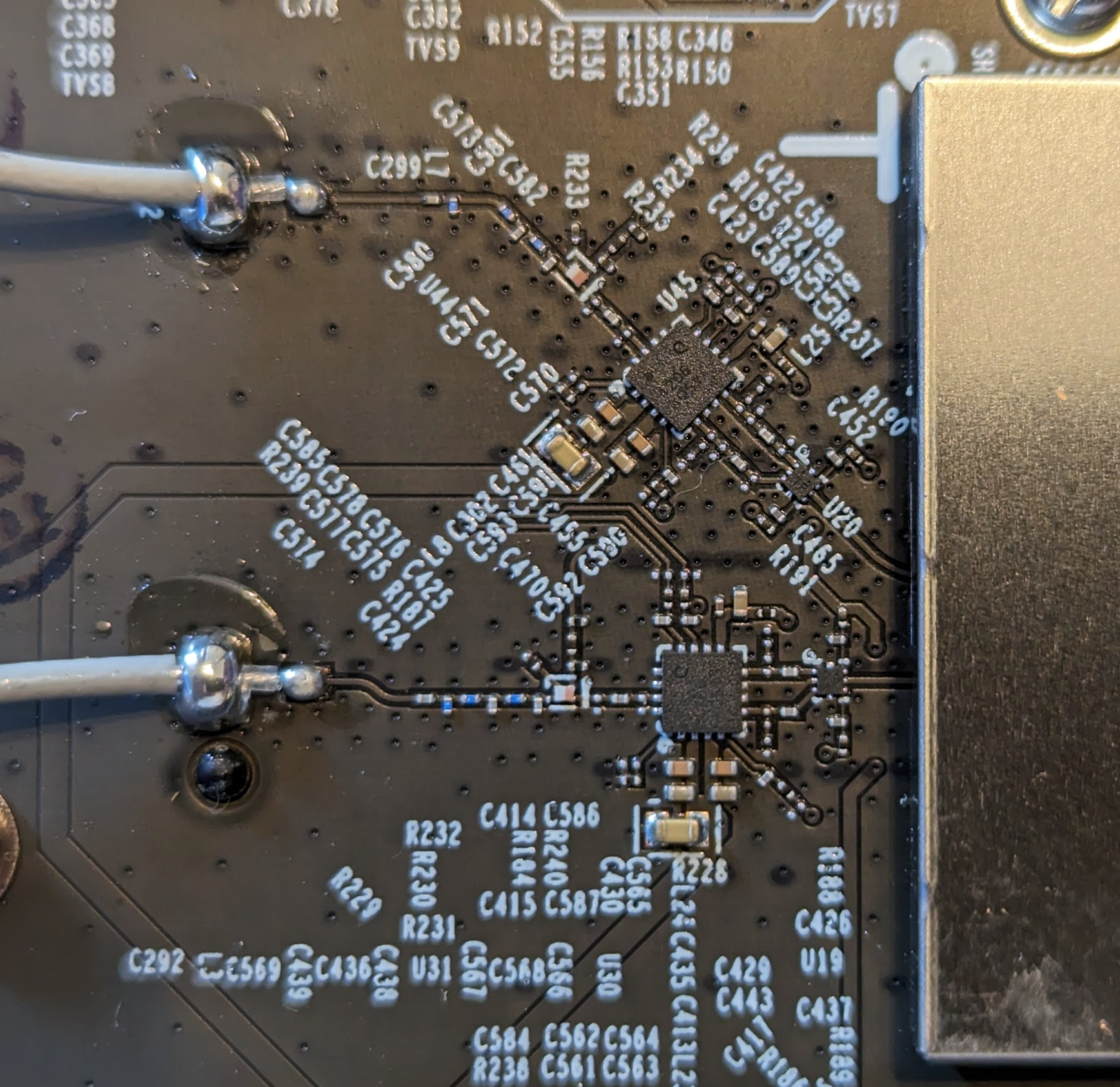 The standard socket connectors for WiFi routers are RP-SMA. However, as I did not have any RP-SMA pigtails and I decided to use ***not*** reversed polarity SMA sockets, as I already had them at home. It is against the standard but from the other hand it is easy to get SMA (not RP-SMA) antennas so it is not a problem at all, however if I had a choice I would probably use RP-SMA ones.
Anyway, later on I found out that the black cables were connected to 5GHz antennas (dark colour antennas), and the grey cables where connected to 2.4GHz antennas (green colour antennas).
You have no clue what your router antennas are? No worries. Just mount your pigtails like I did – you will find it out later – keep reading!!!
The picture below shows mounted sockets: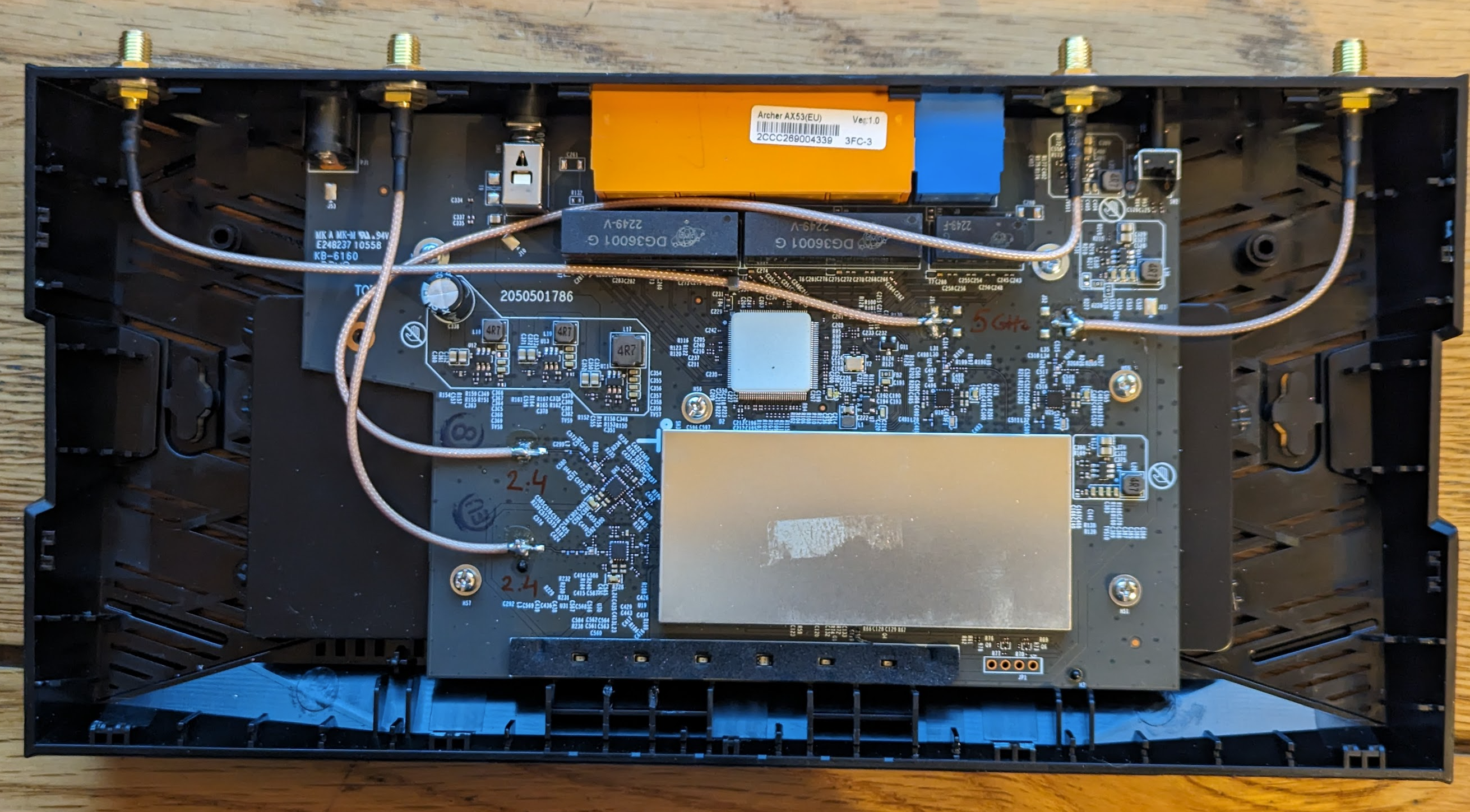 So how did I find out which antenna is which?
Very easy job. After adding external antennas, remove two of them which you expect are for the same band and watch your mobile phone for signal. If you can see only 5GHz band on your mobile phone, then it means you removed the 2.4GHz antennas from your WiFi router. Then swap antennas, of the situation reverses and you see only 2.4GHz – it means you removed antennas from 5GHz sockets.
Now you can add for your test and signal improvement ANY antenna you wish. Small disclaimer – in some countries this mode on your WiFi router could be illegal. In other countries it is perfectly legal if you do not exceed 20dBm (100mW) at 0dBi antenna. Just check (I am sure you will) your local law 🙂
Have fun 🙂
PS. If you f**k up your router, do not complain to me 🙂 I do not take any responsibility for broken equipment or any harm done to yourself and other people.