Dzisiaj zdecydowałem, że spróbuję zainstalować na moim telefonie "early release developer version" Androida 12. Aby to zrobić, należy przede wszystkim odblokować bootloader. W przeciwieństwie do innych producentów, Google nie blokuje takiej możliwości. Aby odblokować bootloader'a, należy pobrać ze strony androida pakiet "platform-tools", w samym telefonie odblokować developer option i USB debugging. Następnie trzeba otworzyć folder z pobranymi narzędziami "platform-tools" i kliknąć prawym przyciskiem myszy gdziekolwiek na pustym miejscu okna i wybrać "open PowerShell window here". Następnie w nowo otwartym oknie poleceń należy napisać "adb.exe reboot bootloader", aby zrebootować telefon i zatrzymać go na bootloaderze. Kolejnym procesem jest odblokowanie bootloadera. Aby to zrobić, należy wpisać: "fastboot.exe flashing unlock", I w tym miejscu pojawia się problem. Proces wisi, szukając urządzenia. Szybkie wyszukanie w google podpowiedziało mi, że winne są nieistniejące drivery USB. Aby to sprawdzić, należy kliknąć prawym przyciskiem myszy na "Mój computer" -> manage -> Device manager -> Portable devices. Jeśli widzisz znak zapytania: "?" sign zamiast Pixel 5, to znaczy, że potrzebne są drivery. Problem polegał na tym, że nie widziałem znaku zapytania, tylko piękne urządzenie Pixel 5.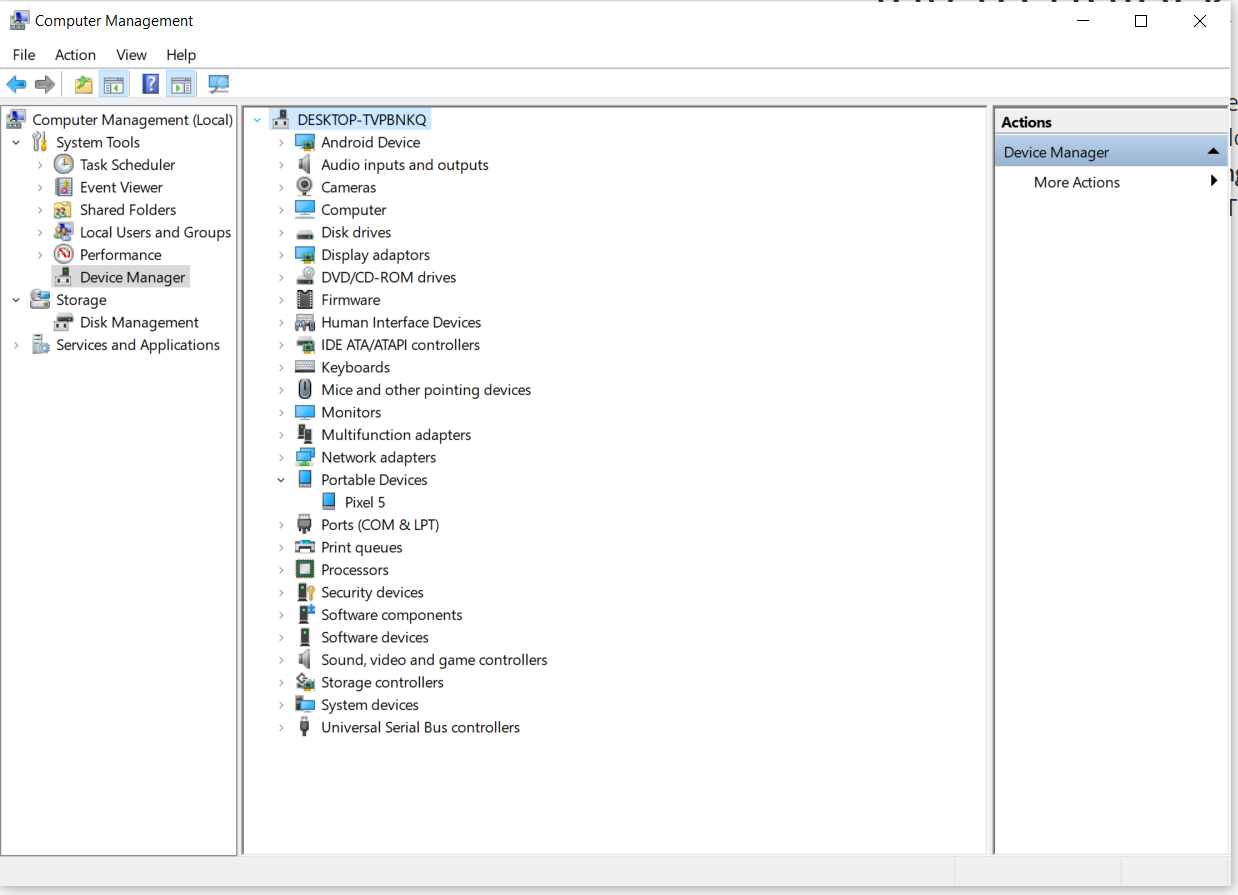 Próba aktualizacji driverów USB dla tego urządzenia nie powiodła się, ponieważ system mówił, że są zainstalowane już najnowsze. Nikt w sieci nie raczył wspomnieć, że znak zapytania pojawi się dopiero, gdy Pixel 5 będzie czekał z uruchomionym bootloaderem. To wtedy należy instalować sterowniki USB!!
Dopiero wtedy, po aktualizacji sterowników USB byłem w stanie odblokować bootloadera: fastboot.exe flashing unlock a następnie wgrać nowy obraz z Android 12
Powodzenia!!
PS. Nie rób nic z telefonem aż do pełnej instalacji – nawet jeśli telefon próbuje zadawać pytania np. o restart. Nic nie rób tylko czekaj cierpliwie, nawet, jeśli pasek postępu się nie przesuwa. Proces trwa około 5 minut