W mojej sieci wewnętrznej mam specyficzne urządzenie, do którego mogę się podłączyć jedynie używając starego Internet Explorera. Moja sieć działa w podzakresie 192.168.1.xxx
Na poniższym obrazku widać, że wirtualna maszyna dostała adres 10.0.2.15 – więc nie będę mógł się skomunikować z moim tajemniczym urządzeniem w podsieci 192.168.1.xxx
Poniższy obrazek przedstawia domyślne ustawienia, które należy zmienić.
Należy wybrać ustawienia, jak na poniższym obrazku, zaznaczając Bridge Adapter w zakładce Adapter 1 a z kolejnej listy należy wybrać swoją kartę sieciową z rozszerzeniem #2
Ale to nie wszystko. Aby dostać nowy adres IP z nowej podsieci, najszybciej będzie to zrobić wydając polecenie ipconfig /renew. Oczywiście należy to zrobić w wierszu poleceń cmd.
Mały edit – nie wiem dlaczego, ale Virtual Box zmienił nazwę mojej karty sieciowej z Realtek blabla na Realtek blabla #2
Tak teraz moja karta sieciowa jest widziana w systemie windows
Jako ciekawostkę podam, że pomimo, że nie ma już w moim systemie karty sieciowej bez numeru (patrz obrazek powyżej) to taka karta występuje w Virtual Box'ie – patrz obrazek poniżej.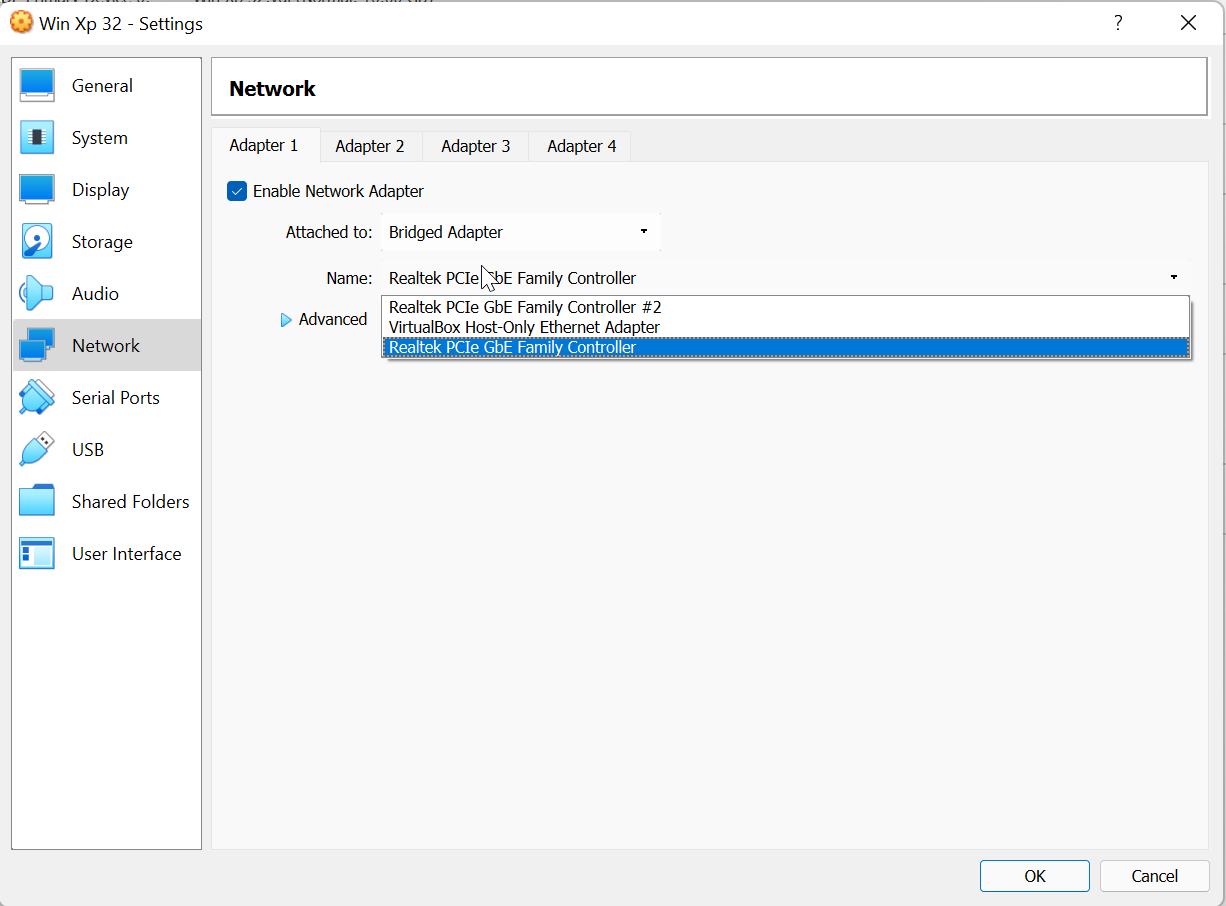 Wybierając tą nieistniejącą kartę, wirtualna maszyna NIE uruchomi się i zostanie wygenerowany komunikat błędu, jak poniżej:
PS. Mój Realtek w wirtualnej maszynie widziany jest jako Intel PRO/1000 T 🙂