Mp3tag – hurtowa zmiana nazewnictwa plików muzycznych MP3 i innych
Wielokrotnie zapewne widziałeś w swoim odtwarzaczu mp3 irytujące sytuacje, gdy Twoja ulubiona piosenka wyświetlana była jako "unknown".
Mp3tag to narzędzie do wygodnej edycji tagów ID3 w wersjach ID3v1 i ID3v2. Program pozwala zmieniać nazwy plików audio na podstawie informacji z tagów, tworzyć playlisty, edytować szczegóły, importować i eksportować tagi.

Program można pobrać m.in. ze strony producenta.
Mp3tag korzysta z bazy danych freedb, więc w wielu przypadkach nie będzie konieczne ręczne wpisywanie szczegółowych informacji.
Jeśli kolekcja plików mp3 posiada uzupełnione wszystkie pola tagów takich jak tytuł, wykonawca, numer ścieżki itp., jednym kliknięciem można zmienić nazewnictwo w zasadzie nieograniczonej ilości plików mp3. Pliki które nazywały się do tej pory np. wykonawca-tytul.mp3 można nazwać numer_ścieżki-tytuł-album-rok_wydania.mp3. I to wszystko niemalże jednym kliknięciem!
Poniżej prezentuje kilka screenshotów z obsługi programu:
Otwieranie katalogu z albumem (albumami)
Lewe menu umożliwia hurtową zmianę właściwości piosenek takich jak artysta, album, rok wydania, gatunek itp.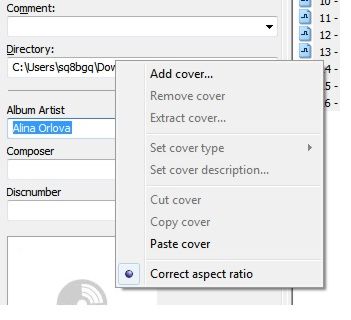 Prawym kliknięciem wyświetlamy opcję dodania nowej okładki.
Przyciskiem 1 2 automatycznie ponumerujemy wszystkie tracki (ścieżki dźwiękowe) albumu
Przyciskiem Aa ustawimy (wedle upodobania) np. Wielkie Litery Pierwszych Wyrazów w nazwach piosenek czy innych skonfigurowanych polach
Ostatnia z najczęściej używanych przeze mnie opcji to hurtowa zmiana nazw plików mp3. $num(%track%, 2) – %title% – ta opcja zmieni automatycznie nazwy wszystkich zaznaczonych utworów do formatu numer_scieżki-tytuł.mp3. Pod przyciskiem help jest dokładne i naprawdę przejrzyste wyjaśnienie jak używać tej opcji. Można ją skonfigurować niemalże dowolnie!
Podsumowując – nie wyobrażam sobie nagrania płytki z mp3 do samochodu bez pomocy tego programu.