Naprawdę lubię moje radio Tytera MD380. Jest takie gniotsja, nie łamiotsja :). Poza tym ma dobry stosunek ceny do jakości. Niestety radio, a w zasadzie jego oprogramowanie CPS do programowania radia w komputerze ma swoje wady. Moje cyfrowe kontakty, kanały, listy skanowania i strefy kompletnie się pomieszały, a to z powodu takiego, że każdy nowo dodawany element ląduje na końcu listy i w oryginalnym oprogramowaniu CPS od Tytery nie ma możliwości sortowania. Moja lista wygląda naprawdę na zabałaganioną, angielskie kontakty i polskie całkowicie pomieszane, wszystko haotycznie posegregowane:
Czy można coś z tym zrobić? I tak, i nie. W każdym razie nie w oryginalnym oprogramowaniu. Na szczęście znalazłem rozwiązanie, a tym okazało się opcjonalne oprogramowanie napisane przez angielskiego krótkofalowca – "DMR code plug editor by G6AMU". Można je za darmo pobrać z tej strony: https://www.miklor.com/DMR/DMR-380-CPEditor.php.
Jedyne, co trzeba zrobić, to uruchomić plik exe z oprogramowaniem (jest to software nie wymagający instalacji), a następnie wczytać plik *.rdt wygenerowany oryginalnie przez CPS Tytery. Nowe oprogramowanie w bardzo prosty sposób pozwala na zmianę kolejności wygranego elementu lub grupy elementów. Poniżej pokazuję, jak ładnie poukładane jest wszystko w moim radiu dmr: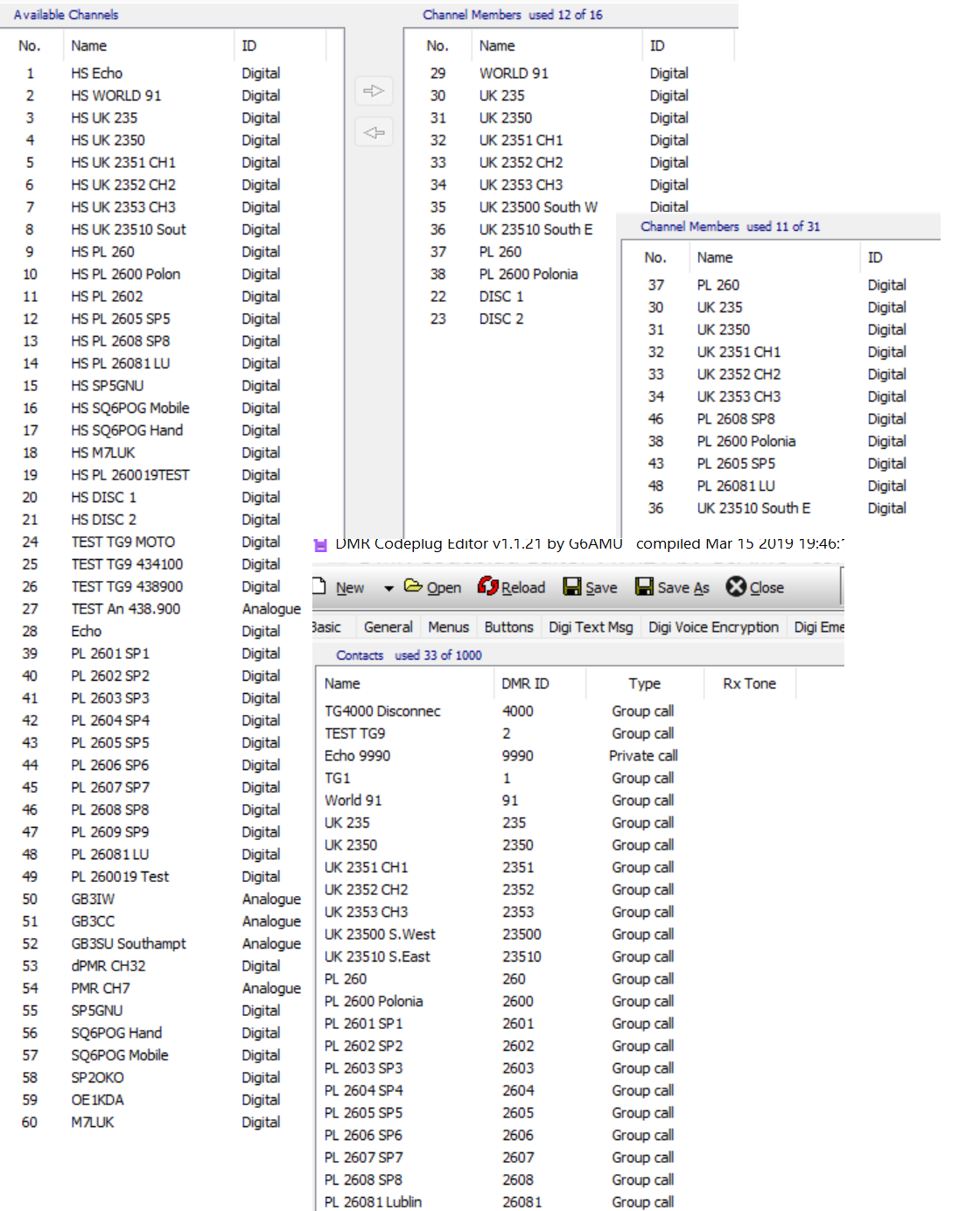 Różnica jest naprawdę duża! Ponieważ byłem mocno przyzwyczajony do starego oprogramowania, to nowe przez pierwsze kilka razy używałem jedynie do sortowania elementów, natomiast stary CPS od Tytery używałem do generowania nowych elementów, ale szybko przestałem to robić i przełączyłem się permanentnie już na nowe oprogramowanie "DMR code plug editor by G6AMU", które naprawdę polecam.