Kilka tygodni temu postanowiłem pobawić się w panoramy, a w szczególności panoramy 360 x 180 stopni.
Najzwyklejszą panoramę można wykonać, robiąc serie zdjęć, kręcąc się dookoła. Jeśli najbliższe obiekty oddalone są od fotografa co najmniej o kilka metrów, to można pokusić się o fotografowanie "z ręki". W przeciwnym przypadku, gdy jakiekolwiek obiekty znajdują się blisko obiektywu aparatu, z powodu błędu paralaksy, program graficzny może nie być w stanie złoży poprawnie zdjęć.
Jeśli obiekty znajdują się w średniej odległości od aparatu, to konieczne będzie użycie statywu. W momencie, gdy przedmioty będą znajdowały się bardzo blisko obiektywu, nawet użycie statywu nie pomoże w uniknięciu błędu paralaksy tak dużego, że żaden program graficzny nie będzie w stanie złożyć poprawnie zdjęcia – przykład – poniżej:
D7000 (14mm, f/7.1, 2.5 sec, ISO100)

Skąd to się bierze – wyjaśnia film poniżej:
Zdjęcia panoramiczne "w jednym poziomym przejeździe" złożone z kilku, czy nawet kilkunastu klatek robiłem wielokrotnie. Często także robiłem zdjęcia np. 6 x 4 – gdzie robiłem sześć zdjęć w poziomie, a tych poziomów było np. 4. Jest to przydatne, gdy nawet bardzo szerokokątny obiektyw nie jest w stanie objąć polem widzenia wszystkiego, co chcemy umieścić na zdjęciu – tak właśnie powstało zdjęcie poniżej: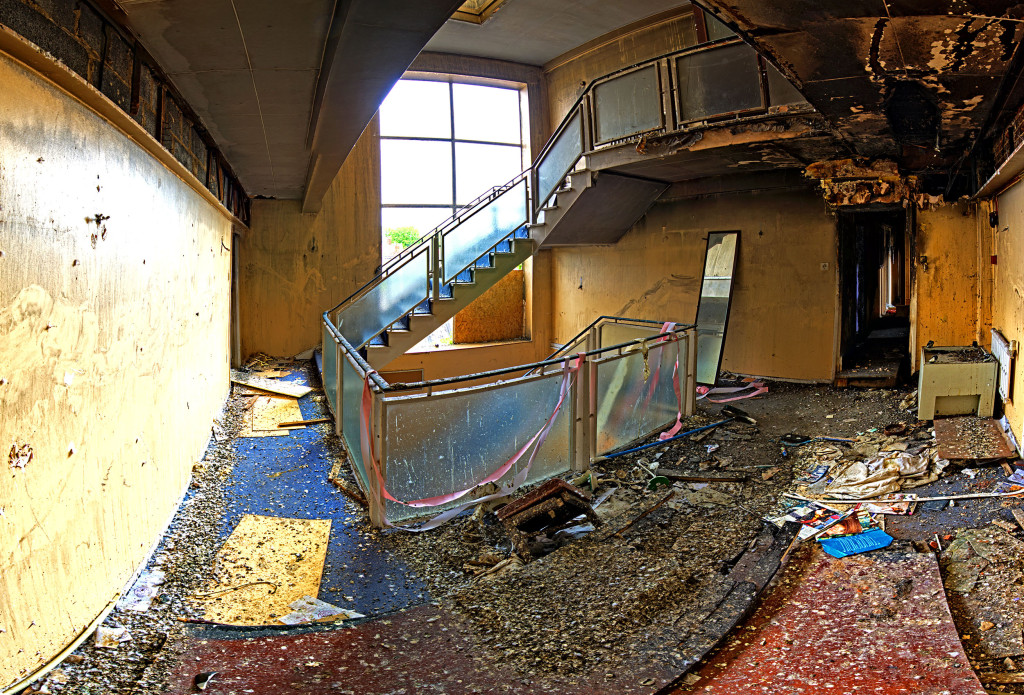 D7000 (14mm, f/8, 1/2.5 sec, ISO100)

Ostatnio postanowiłem jednak spróbować panoram 360 x 180. Próbowałem ich już jakiś czas temu, jednak Photoshop, którego używałem do składania tychże panoram nie bardzo sobie z nimi radził – składanka często wychodziła krzywa, lub, jeśli zmniejszyłem ilość składanych poziomów – nie dawała pełnego pokrycia obrazem. Nie była to jednak 100% wina PS, ale także jakości zdjęć dostarczonych programowi. Używając zwykłego statywu, robiłem zdjęcia na oko, obracając aparat tak, aby zdjęcia zazębiały się w około 30%.
Aby zrobić porządną, profesjonalną panoramę, potrzebowałem uchwytu panoramicznego. Na szybko przejrzałem eBay i zobaczyłem, że porządne uchwyty kosztują około £80…£120, a naprawdę profesjonalne mogą kosztować nawet kilkukrotnie więcej.
Ponadto nawet te najdroższe mogłyby nie spełnić mojego podstawowego wymogu – chciałem, aby współpracowały optycznie (czyli aby zakres regulacji był odpowiednio duży) i mechanicznie z dołączonym do mojego aparatu gripem, uchwytem do paska i statywu.
Doszedłem do wniosku, że za kwotę około £60 będę mógł zamówić cięcie wodne elementów do mojego samodzielnie zaprojektowanego uchwytu do zdjęć panoramicznych.
Nie będę tu konkretnie opisywać jak zrobic uchwyt do zdjec panoramicznych do aparatu. Mój uchwyt jest spersonalizowany do konkretnego zestawu aparat-grip-obiektyw-akcesoria. Nie będzie więc sensu podawać tu żadnych konkretnych wymiarów.
Musiałem najpierw znaleźć, gdzie mój obiektyw ma punkt nodalny:
NIKON D100 (70mm, f/18, 1/60 sec, ISO0)

Myśli przeszły w czyn i w ciągu kilku dni, pracując po kilka godzin dziennie po mojej normalnej pracy, zaprojektowałem, używając programu inżynieryjnego Creo, mój nowy uchwyt do zdjęć panoramicznych:
Po około tygodniu oczekiwania, odebrałem wycięte elementy, jeden z elementów musiałem wygiąć, a skończony i zamontowany uchwyt wygląda tak:
NIKON D7000 (24mm, f/5, 1/20 sec, ISO6400)

W osobnym artykule postaram się opisać, jak i jakiego oprogramowania użyc do robienia panoram.
Źródła:
– http://www.vrphotography.com/data/pages/techtutorials/technotes/panolenschoice.html
– http://www.johnhpanos.com/epcalib.htm