The Tyt (Tytera) MD380 (or MD390 which is "water proof") is one of the most popular amateur DMR radio, as it costs only about £80. All the mods below will also work for a clone radios Retevis RT3 and Retevis RT8. They are identical! 🙂 For radios like Hytera or Motorola you need to pay much much more. However, the radio's firmware is a bit rough. One of its problem is the limitation of the digital contacts which can be created. And the limit is 1000. Currently in August 2021 the amateur ham radio user database is around 198.000, so obviously the standard radio's software won't be able to display the station's info. And just to make sure, we are not talking about contacts created ourselves during programming the radio. We talk about the massive 198.000 (August 2021) database of all world's DMR users! Imagine, you do not know who is talking on the radio, you look at the display and you see all info as shown on the picture below – it is very nice, isn't?
And this was the main reason why I decided to resolve the problem. First of all I found out that the UHF MD380 / 390 has got only 16MB memory. For some unknown to me reasons the VHF version is equipped with only 1MB memory!!! Anyway, most DMR users will grab UHF version so it is not a problem. Anyway, after additional research I found that the solution is to give the radio a new software. I tried 4 or 5 different ones. The problem always started when I tried to use the UserDB. The radio was functioning correctly till started receiving any signal. Then the radio started a constans restarting!!! See video below:
So I almost gave up any further experiments with the new firmware and I was about to decide to go back to the original Tyt firmware, as the original Tyt firmware does not support big user database and just does not create any problem. But then I decided to have one last push and try one more firmware, which was a quite complicated solution, with a Virtual Machine with a special version of Linux just for uploading the firmware into the Tyt MD 380 / 390. Sounds horrible? Yes. But… keep reading – it won't be as bad as you think!
I found a website here: https://github.com/KD4Z/md380tools-vm
You need to scroll down and download over 1GB file. Also from the same website download the latest PDF with manual explaining how to install everything (do it, it is a very helpful PDF!).
Below is a image, so do not try to click 🙂

The file is a image of a special version of Linux created by KD4Z just for flashing MD380 / 390 with a new software.
But, to use the image, you need to get a virtual machine on your PC first. I decided to use virtual machine called Vritual Box – go to https://www.virtualbox.org/wiki/Downloads
Below is a image, so do not try to click 🙂
You need to download the main software with the virtual machine and also the extension pack, to get the USB cable working correctly. Important: you also have to have correct USB cable drivers for your Windows OS.
After installing everything and importing the Linux image, the process is very simple. Use the PDF manual downloaded from the first page – link provided above.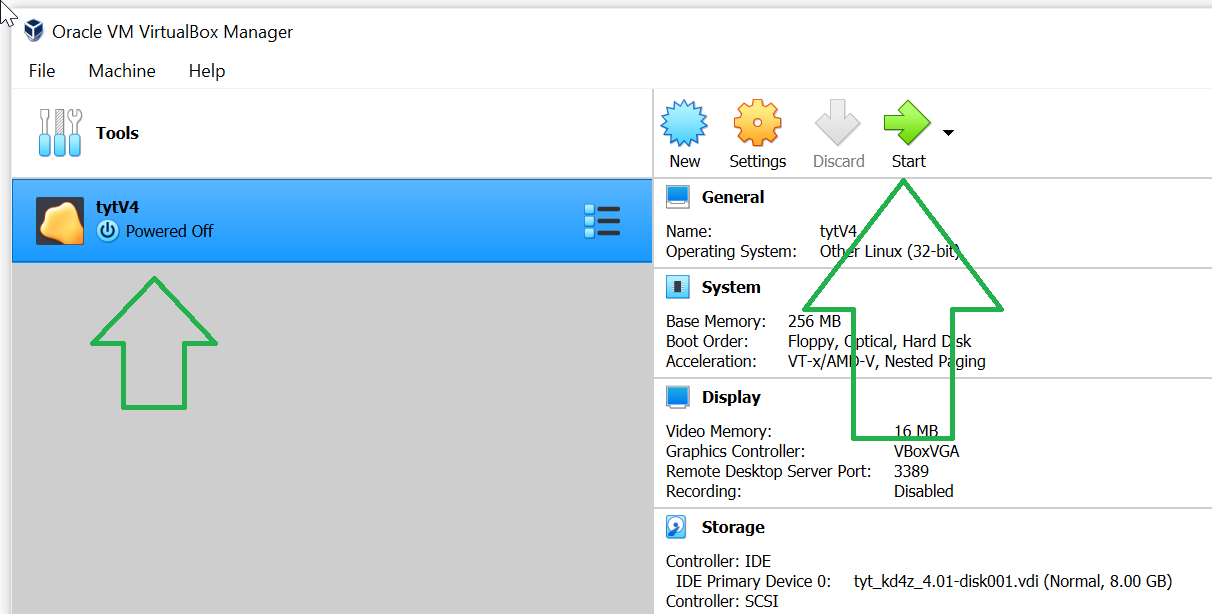 Generally you have to type just few commands: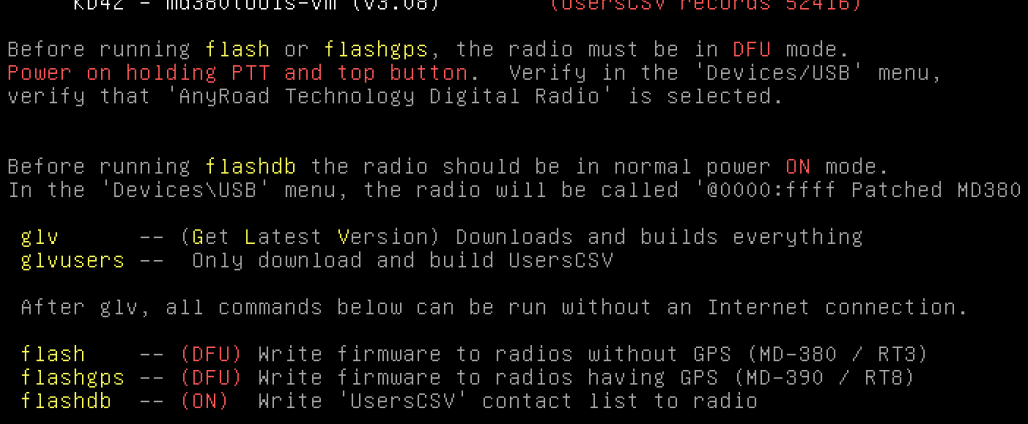 glv – get the latest version will download… the latest software and user database
Edit: There is a small confusion in the software – they say use "flash" for MD380 and "flashgps" for MD-390 – it is not fully true. There are some radios MD390 with no GPS – and you still need to choose MD380 for them!!! The only one difference between MD380 and MD390 is that MD390 is waterproof!
Now, switch off the radio, connect to the USB cable, press together PTT and the button at the top and switch the radio on again (DFU mode). Red / green light will start flashing. Then type flash (no GSP version) or flashgps for GPS version.
The process will take several minutes. Once finished, simply switch the radio off and then on and in a normal working mode (radio just simply switched on) type flashdb to send the user database to the radio. And enjoy a very stable software with amazing full database.
PS. I am still not 100% sure why the virtual machine software done by KD4Z is the only one correctly working with 198k records user DMR database. All other firmware were absolutely OK till I tried to import DMR user database. So if you have any problem with a new, experimental alternative firmware for your Tytera Tyt MD380 / MD390 – I hope I directed you correctly. If you still struggle, try to ask me in comments or go to any DMR Tyt Facebook group for any additional help. Please do not forget all the info above will also work for clone versions of Tytera: Retevis RT3 and Retevis RT8. Good luck!!!
IMPORTANT: So after uploading the file to the radio you must press MENU -> UTILITIES -> MD380 Tools -> DISPLAY -> SHOW CALLS -> USER DB