Taśma miernicza, miarka, tape measure, różne nazwy, urządzenie to samo. Czy w czymś tak prostym może być cokolwiek zaskakującego? Okazuje się że tak. Podejrzewam, że sporo osób nie zdaje sobie sprawy co takiego – więc może warto napisać dla potomności chociaż kilka słów na ten temat?
Otóż – nie jestem stolarzem, ani do tej pory nie wykonywałem zawodow wymagających dokładnych pomiarów na dość dużych dystansach (rzędu 2…3 metrów).
Ponieważ od dwóch lat wykonuje pracę taką, jaką wykonuję, muszę czasami zmierzyć odcinki 2…3 metrowe z dokładnością do 2…3 mm. Do takiego celu najlepiej nadaje się miarka taśmowa.
Ku swojemu własnemu zdumieniu, odkryłem kiedyś, że zaczep na końcu miarki jest zamontowany luźno, ponieważ jakiś idiota w fabryce produkującej te miarki nie zacisnął porządnie nitów na tymże zaczepie.
Moje zdziwienie było także dość duże, kiedy zauważyłem, że skala na miarce zaczyna się nie od zera, a od około drugiego milimetra.
Jak w takich warunkach dokonać precyzyjnego pomiaru?
Zauważyłem jednak, że jeśli zaczepię i naprężę miarkę, to pomiar będzie dokładny, ponieważ zaczep odsunie się od krawędzi taśmy na odległość tych brakujących dwóch milimetrów:
Zdziwiony całą sytuacją najzwyczajniej w świecie spytałem się kolegi z pracy.
Ten zaczął się śmiać i powiedział, że gdyby zaczep był przynitowany na stałe, nie mógłbym zmierzyć dokładnie odległości pomiędzy np. ścianami – ruchomy zaczep daje możliwość kompensacji błędu grubości zaczepu przy mierzeniu wewnętrznych i zewnętrznych krawędzi: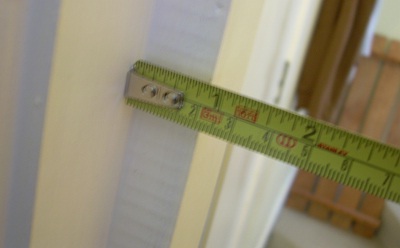 Może nie wytłumaczyłem tego jakość szczególnie jasno, ale mam nadzieję, że jeśli ktoś zerknie na taką miarkę, to będzie wiedział o co chodzi.
PS. Proszę powstrzymać się od komentarzy, co za debil i idiota, nie wiedział takiej prostej rzeczy. Po prostu nie miałem z tym nigdy do czynienia, to wszystko 🙂