Po około roku posiadania akwarium, ni stąd, ni zowąd na powierzchni mojego akwarium zaczęła formować się bąbelkowa piana. Po około tygodniu sytuacja zaczęła być poważniejsza, jako że ryby zaczęły pływać w pobliżu powierzchni wody, co jest typowym objawem braku tlenu. Piany zaczęło być coraz więcej. Cała sytuacja była o tyle dziwna, że nie robiłem żadnych zmian w akwarium i do tej pory nie wiem, co mogło spowodować występowanie tej piany.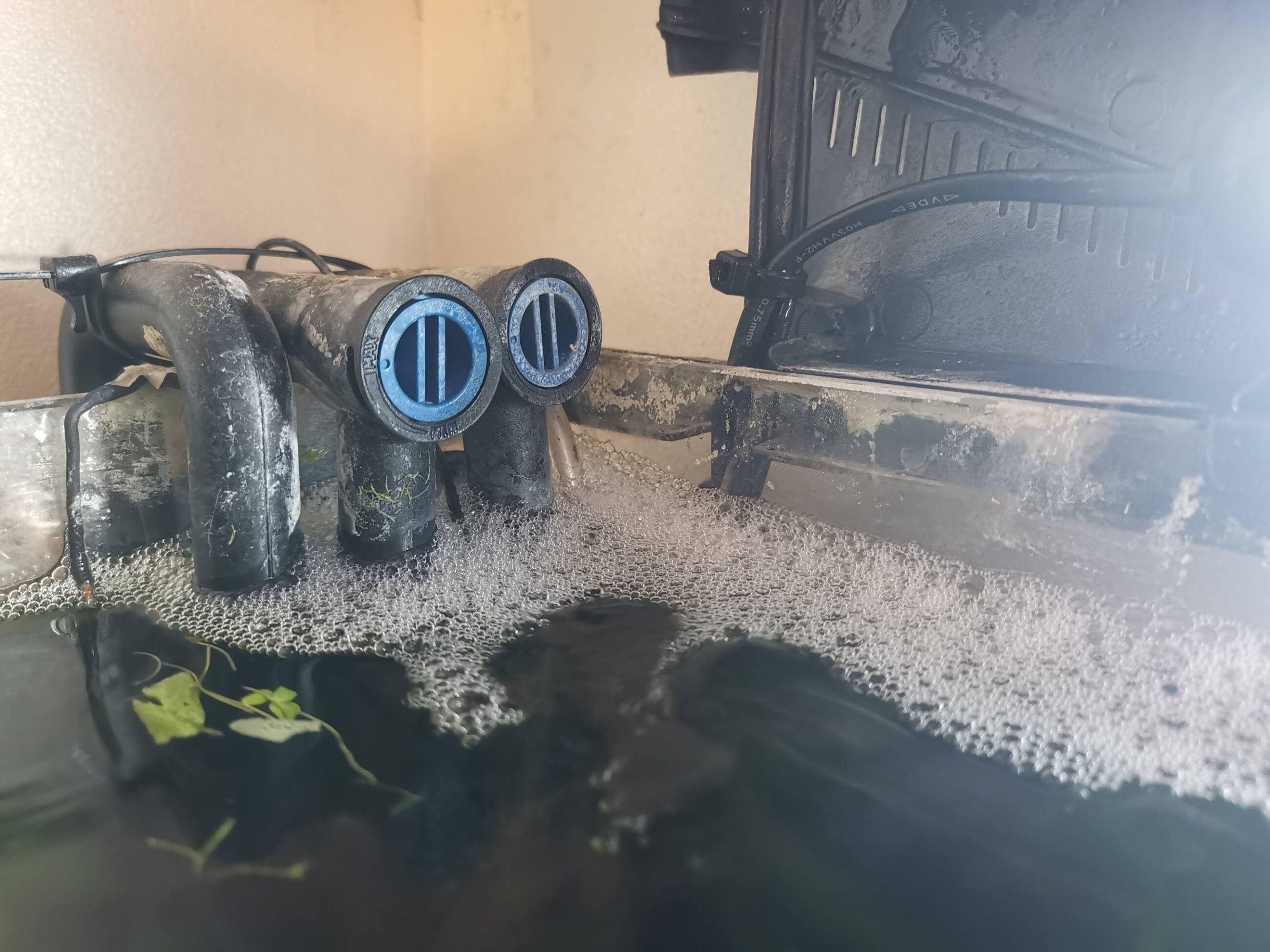 Oczywiście pierwszą rzeczą, jaką zrobiłem, było szukanie odpowiedzi w internecie. W zasadzie wszyscy pisali, że najczęstszą przyczyną jesli biologiczny, proteinowy film, który nie dopuszcza tlenu do wody. Jednakże taki film wygląda trochę bardziej jak na poniższym zdjęciu (z internetu, to nie u mnie). Jest jednak pewna szansa, że u mnie także był to film proteinowy, ale duży ruch wody "rozbijał" go trochę… Kolejna sprawa – u mnie na powierzchni akwarium jest bardzo duża rotacja wody, więc teoretycznie nic nie powinno się formować, a jednak… Zdjęcie poniżej nie jest moje, przedstawia jedynie, jak "powinien" wyglądać film proteinowy.
Nawet szczegółowe testy wody nie wykazały nic złego 🙁 Pewnym rozwiązaniem okazało się kupienie skimmera: Eheim Skim 350. Skimmer okazał się pewnym rozwiązaniem. Po około 5 dniach używania skimmera, nie ma już śladu piany. Napisałem, że skimmer jest "pewnym rozwiązaniem" – bo w tej sposób zaleczyłem objawy, ale nie problem, gdyż do tej pory nie wiem, co było problemem. Oczywiscie jest szansa, że filtrowanie powierzchni wody jest rozwiązaniem problemu, gdyż brudna powierzchnia jest zjawiskiem normalnym. Tak czy inaczej, moje ryby są teraz szczęśliwe, a powierzchnia wody krystalicznie czysta!
PS. Postanowiłem wymienić oryginalną gąbeczkę w środku filtra, na gąbkę do… mycia naczyń, dociętą do odpowiednich rozmiarów. Moim zdaniem, oryginalna gąbka była dużo za dużo ażurowa, przeznaczona bardziej do zatrzymywania dużych zanieczyszczeń roślinnych, niż filmów proteinowych. Zmniejszyłem przez to dość mocno przepływ wody przez filtr, ale duża wydajność nie była moim priorytetem.
Mała edycja: filtr Eheim Skim 350 nie jest duży, ale mimo wszystko w moim akwarium stanowi jego sporą część 🙂 Postanowiłem więc na eBayu kupić surface skimmer podłączany do rurki zasysającej filtra zewnętrznego – wygląda to tak:
Kosztuje to grosze (trochę ponad 11PLN) jednak niestety do nabycia jest tylko w Chinach, nie mogłem znaleźć takiego skimmera nigdzie lokalnie.
Jedyne co musiałem zrobić, to wywiercić dziurkę o średnicy 9mm w rurce filtra i nieco uszczelnić połączenie, jako że moja rurka od filtra ma zewnętrzną średnicę 16mm – czyli dokładnie tak, jak dolna część na obrazku powyżej, natomiast górna część w środku ma 18mm – uszczelniłem to taśmą izolacyjną oraz super glue a na wierzch, nie do końca wiem po co, dałem termokurczkę.
Wygląda to tak (niestety nie zrobiłem zdjęcia przed wsadzeniem do akwarium):