Jak leczyć przeziębienie chyba każdy wie. Nie znam osoby, która nigdy w życiu nie była przeziębiona, więc takie informacje o tradycyjnym i farmakologicznym leczeniu przekazywane są przez ludzi z pokolenia na pokolenie.
Sam się właśnie rozłożyłem na przeziębienie, a to za sprawą imprezy sprzed dwóch dni, czyli klubu, gdzie tańczy się salsę. Poszedłem tam z dwoma koleżankami z college'u. Zimne drinki oraz fakt, że i tak byłem delikatnie podziębiony, zrobiły swoje.
Dzisiaj w necie szukałem, jak szybko pozbyć się przeziębienia.
Oczywiście wszyscy polecają, i słusznie, leżenie w łóżku, generalnie utrzymywanie ciepłego ciała. Sporo ludzi zachwala różnego rodzaju nalewki alkoholowe. Ja tego akurat nie stosuję.
Ja osobiście, oprócz leżenia w wyrze, leczę się metodą tradycyjno-nowoczesną. Jeśli mam gorączkę, biorę czy gripex, czy inny lek przeciwgorączkowy. Jeśli boli mnie gardło, ssę Strepsils lub coś podobnego.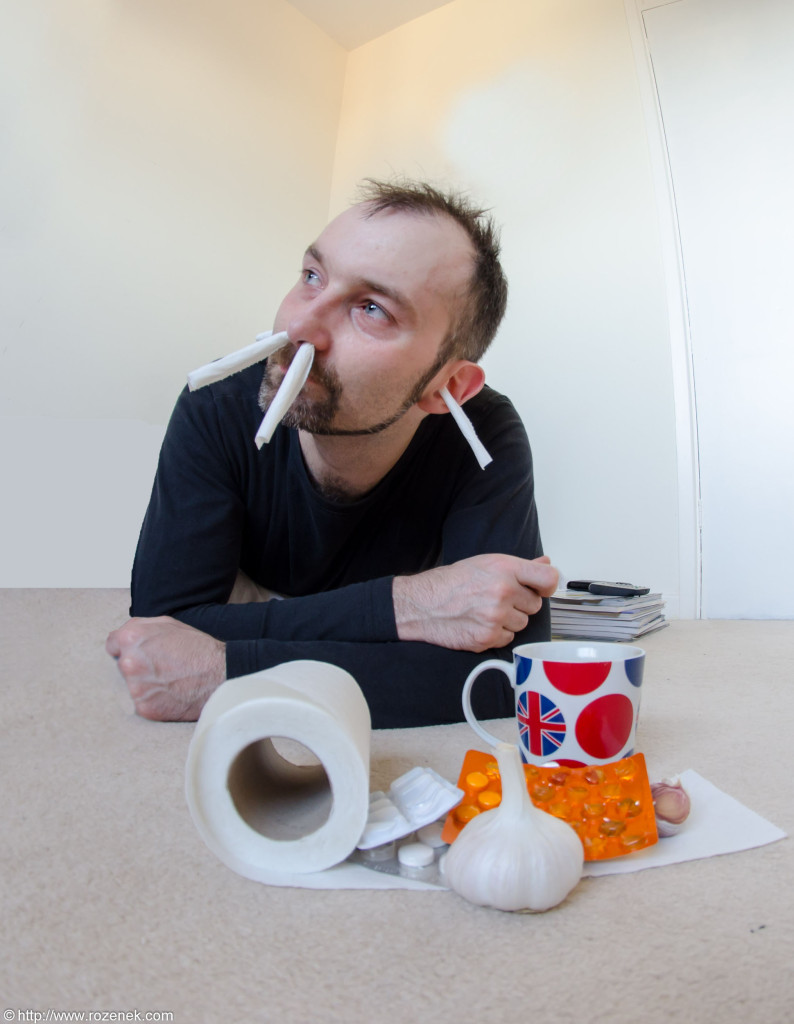 NIKON D7000 (8mm, f/6.3, 1/15 sec, ISO200)

No i oczywiście stary sposób – gorące mleko z miodem i jednym, lub dwoma roztartymi ząbkami czosnku. Po takiej kuracji w całej chałupie wali jak z murzyńskiej chaty, człowiek poci się jak świnia ale to naprawdę pomaga. Swoją drogą ciekawi mnie, dlaczego pocenie pomaga w wyleczenie 🙂 Czosnek z powodzeniem jest używany w leczeniu bólu gardła, przeziębień, gryp, infekcji oskrzeli i płuc, infekcji przewodu pokarmowego.
Dobrym pomysłem jest także wzięcie gorącej kąpieli.
FUJIFILM FinePix S7000 (7.8mm, f/8, 1/60 sec, ISO200)

Na sam koniec chciałbym podzielić się jeszcze dwoma sposobami na wyleczenie bolącego gardła. Nie wiem jak drugi, ale sposób pierwszy jest mało znany, ale już kilka razy wypraktykowany przeze mnie i na mnie działa wyśmienicie.
A mianowicie wystarczy wziąć jednego goździka i ssać aż do momentu rozpuszczenia się w buzi. Podobno goździk, podobnie jak czosnek, zawiera składniki, które działają jak naturalny antybiotyk. Podobno nie powinno się ssać ich więcej niż 3…4 dziennie, bo mogą spowodować podrażnienie.
Drugi sposób na problemy zdrowotne, także naturalny, jest niestety zarezerwowany tylko dla płci pięknej, lub dla mężczyzn kochających inaczej i jest następujący:
Kuracja "RUMiJANEK". Pijemy herbatę z rumem, idziemy na imprezę, wyrywamy Janka. Janek wyrypie – i po grypie!