I use a com0com software version 3.0.0.0 at Windows 11 x64. After installing the software, instead of heaving virtual new ports I got CNCA0 and CNCB1 ports.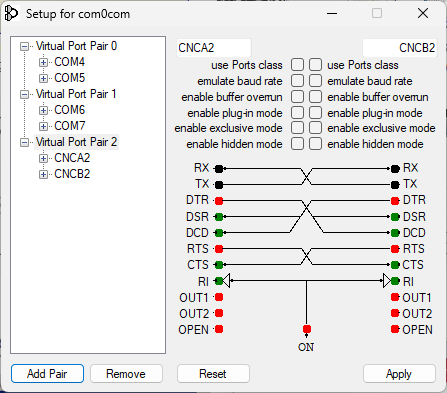 There is no need po panic. What you have to do is…
… to select use Ports class on both sides, then click Apply and virtual ports will appear.
So, no need to panic.
However, today I panicked! Instead of getting nice new com ports in com0com, I got ports called COM# and COM#. There was no chance to get it right! I reinstalled the software – no difference! The solution I found was simple.
To make sure this is the case, you can go into your device manager to see the small exclamation mark indicating the error.
The solution is to go to your windows update and click check for updates and then click advanced options to get the driver update.
Problem solved, I do have two pairs of new, shiny virtual com ports in my windows 11!